This Special Operations Fitness Challenge is named in honor of the U.S. Air Force Pararescuemen PJ.
We challenge you to try it. Don't forget to let us know how you liked the workout.
Some products we recommend which are available to purchase on Amazon: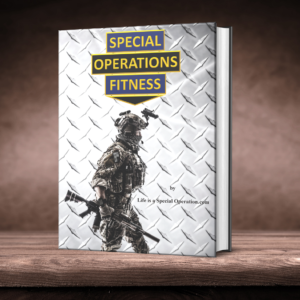 Special Operations Fitness $10.00
Special Operations Fitness is a 12 week unconventional training program designed by a Harvard educated Strategist and Special Forces (Green Beret) Lieutenant Colonel to shred body fat, increase cardio vascular efficiency and muscular strength, teach or reinforce essential self-defense techniques, build confidence, and increase physical and mental performance.
Special Operations Fitness includes:
Philosophical principles of Elite Fitness
The 12-week Special Operations Fitness program
A progress tracking check list
Detailed descriptions for 12 weeks of dumbbell and body-weight boot-camp style workouts, 6 exhausting self-defense kick-boxing workouts, 2 lung crushing swim workouts, 2 unique biking workouts, 2 flexible cross training workouts, and 6 hikes
-We are a participant in the Amazon Services LLC Associates Program, an affiliate advertising program designed to provide a means for us to earn fees by linking to Amazon.com and affiliated sites.